For more than 55 years, B&H Machine, Inc. has led the field of hydraulic and pneumatic cylinder manufacture, repair and rebuild. Our growth and expansion have met the increasing demands of some of the most challenging industries. With our focus on heavy-duty hydraulic and pneumatic cylinders, our products are found across an array of industries that rely on our quality and precision for reliable performance. Our departments work together to produce quality results.
Every B&H machinist is part of our family. Our 70,000-square-foot manufacturing facility couldn't operate without the skills, talents and dedication of our machinists, operators and support personnel. If you're looking for a machinist job or a position at a growing company, contact us to apply today.
Our culture supports traditions and celebrates successes. We believe in opportunity, hard work and the value of listening to good ideas. Some of our best improvements have come directly from suggestions from our machine operators. B&H careers reward effort, reliability and results.
Our manufacturing facility in Minerva, Ohio, houses some of the best manufacturing equipment in the region. We rely on manual machinery and the latest CNC machines to manufacture, repair and rebuild heavy-duty cylinders and machined products for an array of industries.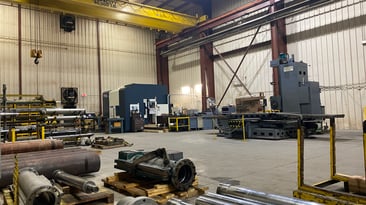 We offer:
Competitive pay

Overtime opportunities

401K/profit sharing

Health insurance

Paid vacations
If you're a skilled machinist and want the opportunity to join an established and growing company, or a dedicated professional interested in another position, we want to hear from you.