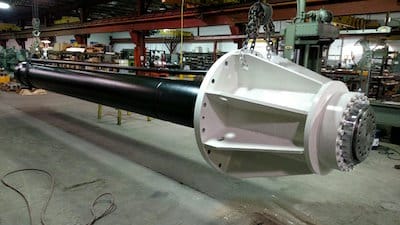 Our precision engineering and complete cylinder solutions have made our products a leading choice for many heavy-duty industrial applications in industries across the globe.
This is why we're a leader among hydraulic cylinder manufacturers. Our products include a wide range of standard and custom cylinders, all of which are manufactured in our 70,000-square-foot facility—that also houses our repair and rebuild services.
Our successful history has equipped us with the knowledge and experience needed to understand and deliver a variety of industry-specific cylinder solutions—from design through production and quality assurance.
We meet the ever-changing needs of the most advanced industries with forward-thinking engineering and manufacturing technologies. At the same time, our proven successes with more traditional industrial segments showcase our ability to manufacture long-lasting cylinders. Also, our repair and rebuild services can keep cylinders in all industries running for as long as possible.
Our work includes engineering, designing, manufacturing and testing to meet the safety standards, precise specifications, durability requirements and extended service life needs of many industries, including:
Steel Mill Machinery

Aluminum Casting/Extrusion

Plastic Molding Presses

Plastic Machinery

Injection Molding Presses

Mining Machinery

Railroad Maintenance

Rubber Molding Presses

Aerospace Equipment

Marine Equipment

Various Hydraulic Presses

Shovels

Lumber Machinery

Civil Engineering Projects

Sand Molding

Conveyors

Broaching
B&H understands the rigors of performance needed for each industrial segment. When the demands for quality, precision and reliability involve heavy-duty cylinder solutions, our standard and custom hydraulic cylinders are up to the task from day one.