Built with precision and an unsurpassed commitment to quality, our heavy-duty, mill-type hydraulic and pneumatic cylinders and Pathon Series cylinders are designed to outperform and outlast in challenging applications.
We have highly skilled machinists and both traditional equipment and machines with the latest technologies to produce products we stand behind with extended service guarantees.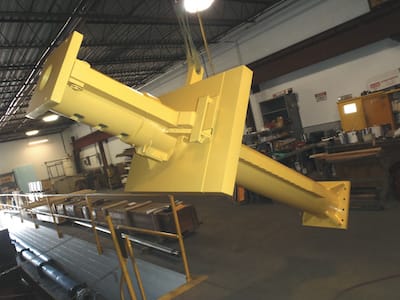 We specialize in large bore and long stroke hydraulic cylinders, but we can also manufacture other types and configurations based on your exact needs. Our complete series of products includes over 10,000 models, including
Each of our cylinders is precision-engineered to exacting specifications and meet the most rigorous industrial standards.
Pathon Series
The non-tie rod and pneumatic cylinders of the Pathon Series offer design and material innovations that can accommodate the most demanding applications. Precision engineering and quality manufacturing ensure that one of our Pathon Series products will meet your job requirements.
The Pathon Series QH, RH, 3H and WA heavy-duty, non-tie rod cylinders promise long-lasting, peak performance in the most demanding conditions.
In addition to our standard models with mounting and end options, we can engineer and manufacture special custom Pathon Series cylinders to your specific requirements. We combine components to produce the custom Pathon cylinder that's best for your application—and the cost is often comparable to that of standard Pathon cylinder products.
Heavy-Duty, Mill-Type Hydraulic & Pneumatic Cylinders
Our heavy-duty, mill-type hydraulic and pneumatic cylinders are designed to meet the highest safety standards and last longer. Some of their features include:
Extra-rugged steel construction

Heavy-wall seamless steel tubing, honed for superior sealing and minimum friction

Non-metallic bearings with sufficient area to minimize wear

Deep seat " U " cup or chevron style rod seal packings for minimum leakage

Steel pistons for maximum wear
Available with six standard mounting options, these long-lasting cylinders meet the demands required for continuous operation. At little extra cost, added features can expand the uses and applications of our heavy-duty, mill-type hydraulic and pneumatic cylinders.
Custom Cylinders
Our engineers expertly and accurately design custom cylinders for a variety of industrial applications in many heavy-use industries, such as steel machinery, aluminum casting/extrusion and railroad equipment. Our precision manufacturing processes produce custom-engineered, specially designed hydraulic and pneumatic cylinders with:
Large bore sizes up to 50"

Long stroke lengths up to 60'

Operation pressures up to 10,000 psi

Electronic positioning

Extended service life

Features that meet high safety standards
When you require specialized design, quality manufacturing and service guarantees, we are always the right choice for your most exacting standards of performance.